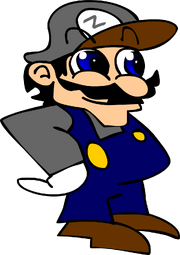 Zaylleo is the brother of Zeenee and son of Zatran. His original name was Zay, the Zeature May. He has the powers of zeature girls and the month "May". He can shoot zipgloss, make any month of the year "Zay", and much more. He is also the enemy of OellyaZ. Zalleo thinks Zaylleo is an abomination and tried to kill him. He was seen in the YouTube video: "HOW TO MAKE A FAKEGEE", by Weegeepedia Mock Account, along with Gaykew and 3 other Weegees/Weenees. Cookeezee used a bit of Zaylleo's brain to make the brain altering powder in Zaleegee's recipe. He later died after getting shot in the head by a Zeenee Hater.
Ad blocker interference detected!
Wikia is a free-to-use site that makes money from advertising. We have a modified experience for viewers using ad blockers

Wikia is not accessible if you've made further modifications. Remove the custom ad blocker rule(s) and the page will load as expected.